"Max Keiser rips the financial markets apart like a hand grenade in a house made of peaches"
- Resonance FM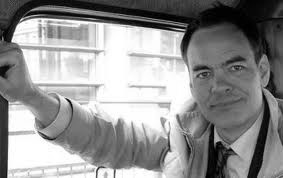 Max Keiser has labeled JP Morgan "the biggest financial terrorist on Wall St", in relation to their alleged manipulation of the price of silver.
- The Guardian


PROFILE

BORN: January 23, 1960

RAISED: New Rochelle, New York, USA. Currently Living in Paris, France.

HIS PATH: Wall Street Stock Broker, Options Trader, Film Maker, Broadcaster, Host of "The Oracle with Max Keiser" on BBC World News, Writer for "The Huffington Post", Entrepreneur, Host of News and Analysis Programs "On The Edge" and "Keiser Report", Founder of the idea "Crash JP Morgan Buy Silver", Captain of the Silver Vigilantes, Journalist, Activist

HIS BUSINESS: Economic News and Analysis Host, Seeker of the Truth, Activist

YOU MAY HAVE SEEN HIM: On BBC World News, Press TV, RT (Russia Today), NBC, CBS, and Al Jazeera English Network. In The Huffington Post, The Guardian, Washington Post, Marketwatch, Motley Fool, Greenpeace, The Independent and many more

BIG BELIEVER IN: Exposing the Fraudulent Systems and Markets of the World, Buying Physical Silver

HIS SILVER PRICE PREDICTION: 500 USD/troy ounce


He is known for making accurate predictions: In the September 2004 issue of "The Ecologist" magazine, Keiser correctly predicted the 2008 collapse of Fannie Mae and Freddie Mac (mortgage association and loan corporation) when he wrote, "My guess is that the two stocks that look the likeliest to implode at the hands of derivative-wielding Wall Street financial types (and other fundamentalists) preying on a US economy made weak by cheap money are Fannie Mae and Freddie Mac."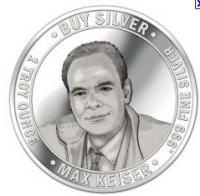 Yes, there is even a Silver Keiser (Max Keiser Silver Round) made after him. He is passionate about exposing the market frauds of our times and believes silver is sound money for the people.



"We will see a shift in power away from the US, and towards the developing world - to countries such as Brazil and the Gulf states that have commodities to sell, and to China, where the savings ratio is high. We are going to see a new world order. America as a driver of the global economy is finished."
- Max Keiser


"The key to understanding the current situation is to understand that house prices, jobs, wages, and pensions in the US are all being attacked with original-issue debt dollar junk. This will continue until the middle class has been completely wiped out."
-Max Keiser


"Max Keiser is "a talented international troublemaker"... it's the sort of TV news analysis you'd expect to see in a free country — or one whose news media weren't dominated by financial interests."
- Chris Powell, GATA



Keiser Report: Crash JP Morgan Buy SilverUploaded November.17.2010



This global campaign has surged through independent media and is helping to wake people up to value of owning physical silver. He is now known in some circles to be head of the Silver Liberation Army and one of the main Silver Vigilantes.



500 Dollar Silver, Silver Liberation Army, Silver VigilantesUploaded November.19.2010



Is the US Dollar a fraud? Is the silver market being cornered? Whats up with the Crash JP Morgan Buy Silver Campaign?

To get right into the JP Morgan story, start at 7:00 mins.


Max Keiser RT: Fleeing the Dollar Flood, Max Keiser SilverUploaded April.26.2011





Return from Max Keiser to Silver Gurus (Investing in Silver)


Return from Max Keiser to Guide To Silver (Why Buy Silver) Homepage